I do not know many people who do not enjoy a good cup of coffee. I know I LOVE a good cup of coffee. I depend on it now-a-days with my late night studying and surely with each of my children I have
needed
enjoyed
drinking good coffee.
I recently stumbled upon a local company (out of Sarasota) that makes some of the best coffee I have ever tasted. The best part? It's a company that believes strongly in fairtrade and building a better life for those who harvest their coffees.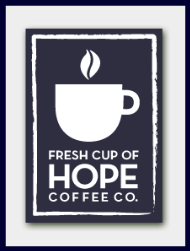 Fresh Cup of Hope coffee pays their farmers more than twice what they would typically make in a year. The increased revenue has allowed the farmers to provide better housing, health care, tutors for the children and full time pastors to minister to the two hundred plus people living and working on the farm.
Another great thing about
Fresh Cup of Hope
- with every purchase you make directly from the link that we provide on this blog, a percent of each sale will help to fund our adoption! Great coffee, great cause, great company! It's a win win!
So, to help get the word out, I am doing a coffee giveaway! I know you will love this coffee, and so will your friends and family. So, for every person who follows our blog, and "likes"
I Want To Bake You A Birthday Cake
on Facebook you will be entered to win one 12 oz. package of your choice from
Fresh Cup of Hope
.
For additional chances to win, post the giveaway on Facebook or your blog, tweet the giveaway, and comment below to let me know that you did so.
For one more entry, comment with the flavor you'd pick if you won! I highly recommend the Snickerdoodle and the Jamaican Me Crazy!
Recap:
Required to enter: Follow the blog and "like" us on Facebook. Leave a comment below letting me know that you did so.
For additional chances- post about the giveaway on your blog, facebook or twitter, and let me know by commenting below.
For one more chance, leave a comment letting me know which flavor you would choose if you win the giveaway.
Good luck! Winner will be chosen at random Monday at midnight.