Monday, August 27, 2012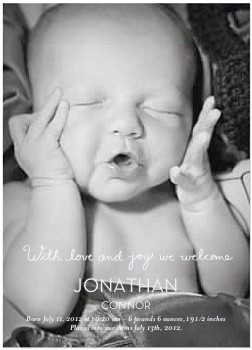 Lovingly Welcome Boy Birth Announcement
Personalized cards for babies, Valentines, Easter and Mother's Day.

Wednesday, August 22, 2012
11 For I know the plans I have for you," declares the

Lord

, "plans to prosper you and not to harm you, plans to give you hope and a future.
I will not get into Jonny's birthfamily story. That story is his to tell someday, if he wants to. I will say that it was so clear to me that God has big plans for this little boy. From our journey with "An Ocean Sized Love", the support from strangers, family, and loved ones, to the nurses in the hospital who cared for him when I could not.
We got a call just a few weeks before Jonny was born from my friend Kelli. I call Kelli my angel. She is that person in my life (maybe you have a Kelli too) that is always uplifting, inspiring, and giving of her heart, life, gifts, and time. She is an amazing person who has such a heart for adoption and adoptive families. I could go on and on but mostly, I owe her a debt of gratitude that I will most likely never be able to repay because without her in my life we would never have met our daughter.
Kelli asked me where we are with our fundraising because at that point we had (what we thought was) a month to come up with $20,000 which was the rest of our $26,000 fee towards our adoption. I told her "I don't know how we are going to do it, but I know God will provide". We had applied for grants, loans, we had done tons of fundraising. We honestly didn't know how we were going to be able to pay our fee when the baby was born.
Kelli asked me to sit down and told me that a family had approached her at church. They wanted to help a family to pay their adoption expenses. They ended up choosing our family to help. They made a donation through No More to our family in the amount of $15,000.
You have no idea how big this was. Not only did God provide for us in our time of need...He gave us peace, rest, hope, faith, and so so much more. This family inspired us. I know in the future that inspiration will spread to many more. In addition to knocking our socks off with provision, it came just in time.
Jonny was born three weeks early. We literally picked up the check from No More the day after he was born. If you have been following our story you have heard me say that I know God provides "just enough in just enough time". He has done just that.
In addition to giving us that time to be with our son without worrying about what we were going to do about the funds, only God could know what the week following Jonny's arrival could have brought for us. Only He could have known that this provision was such a gift to us during such a difficult time.
Tony's father passed away just a week after Jonny's birth. He never got to meet him. He saw him on Facetime once, left messages on our phone telling us he loves him already and can't wait to meet him...
This was a very bitter sweet time for us. We had the gift of a beautiful baby boy and Tony lost his father.
I said to Tony after the memorial of his dad that I knew God providing that way was like a sweet gift of love and care for him. Only God could know how much Tony needed that peace. Only God could know how to make a stranger reach out and touch our lives forever.
Because of God's provision, the verse Jeremiah 29:11 has been on my mind for my family, but specifically for Jonny. From the womb God worked out His plan to provide in a miraculous way for Jonny. I cannot wait to see the plans that God will continue to work out in his life as I get to watch him grow up.
Six weeks ago this morning I got a call from our adoption director letting me know that our son was on his way into the world. So much has happened since then and in the year leading up to his birth. Here is part one of Jonny's story.
It was my birthday, a year ago on July 13th that we finished our application to adopt from China through CCAI. China you say? Yes, we started off on our journey to China. Many things happened in the following months. We felt God pull our hearts closer to home. We decided on domestic adoption close to the holidays and began our home-study. In March we finished and began waiting for a match but we were told by our agency that it would be a long wait. Of course, me being the most patient person in the world (sense sarcasm) I began to "throw out the adoption net" and expand our search for our son. We spoke with some adoption attorneys, other agencies, and even searched for available children through foster adoption. We were open to age, and ethnicity.
Towards the end of May we got a call from one of the resources that we reached out to. The adoption director told us she had 5 profiles to show a new birthfamily, and would we like to be shown as well? I was sort of in shock that so soon we were waiting on the call to let us know if we had been chosen or not. It was a busy time, I had just finished with my full time semester and the kids were still in school. I told my husband and he sort of just assumed that this would not work out. Much to our surprise we got a call from her that evening letting us know that they had chosen our family! I'll never forget it. We were all outside doing yard work, Tony was raking up leaves, I was pulling weeds and the kids were playing in the sandbox. I got the call and ran to the patio. The director said "they chose you guys" and my mouth dropped open. When I got off the phone and told Tony he was in shock! He just said "help me throw these leaves into garbage bags". Haha. It took a few minutes to sink in.
Shock, disbelief, amazement, excitement, joy, and fear about how it would all work out (financially and otherwise) were the emotions that I felt. The baby was due August 1st and we only had two months to come up with all of the funds that we would need. It was overwhelming but both my husband and I stuck to our belief that God would provide for this adoption. Stepping out in faith in this way was a huge faith step for both of us and it was no easy step. We worked hard to back up our faith with our own efforts and started applying to all sorts of grants and fundraising for adoption.
We met the birth parents two weeks later. We loved them. They were right for us, we were right for them. Then we began the waiting. I registered for baby things. Started planning the nursery. We waited until Father's Day to tell the kids. They were so excited.
There was never really much "drama" with this match. I kept waiting for something to go wrong. For our bubble to pop. We were wondering how we were going to come up with the funds but everything else was just falling into place beautifully and rather easily too. The waiting was peaceful. I could feel the prayers that we asked for. I knew God was working it all out.
to be continued...